Recreation
Events and areas available for recreation and leisure are what many think make Blount County, Alabama a truly wonderful and unique place to live.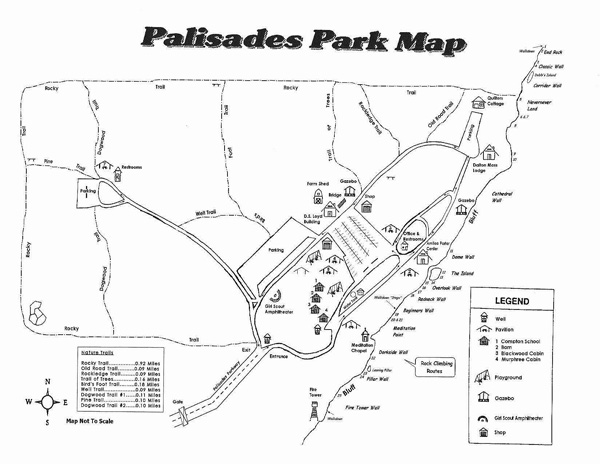 Palisades Park in the foothills of the Southern Appalachians is one of the area's best kept secrets. With a relaxing atmosphere, scenic views for miles and a sandstone bluff averaging 60-70 feet, this 83 acre park has been named by National Geographic Magazine a "Hidden Gem of the Appalachians." There are places for picnics, restored log cabins, and a playground for children. Three rustic lodges and multiple pavilions are available to rent for weddings, family functions and other special events. With a quarter mile of bluff at an elevation of 1,300 feet, Palisades Park is also a popular spot for rope climbing (more than 90 routes rated from 5.4 to 5.12) and rappelling. For those not quite as adventurous, there are variety of nature trails to take a leisurely stroll to take in the natural beauty and see the variety of plants and wildlife native to the area.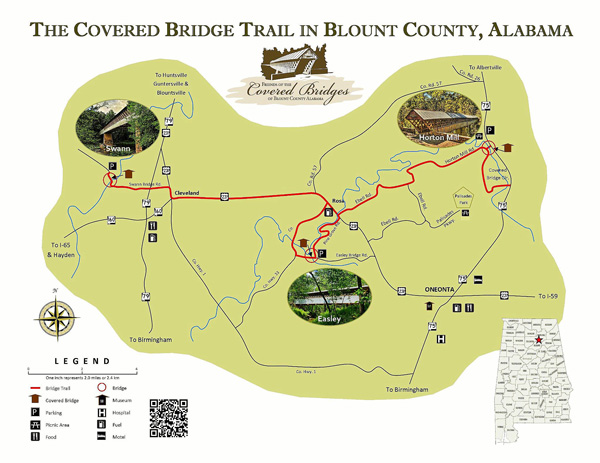 Tucked away on winding country roads are Blount County's most treasured assets – three great depression era covered bridges. The Easley Bridge, Swann Bridge and Horton Mill Bridge are listed on the National Register of Historic Places and are the reason that Blount County is nicknamed "The Covered Bridge Capital of the South." The bridges and their surroundings continue to be a highlight for visitors seeking a nostalgic escape, so pack a picnic lunch and take a driving tour of these special sites.
A favorite of whitewater enthusiasts, people come from all over the southeast and the country to enjoy all that the Locust Fork River has to offer. With scenic beauty unsurpassed in Alabama, the jagged cliffs, waterfalls, and sandy beaches make it a beautiful spot to host the annual Locust Fork Whitewater Classic for the Alabama Cup. Along with excellent fishing, Locust Fork River boasts Class III and IV rapids as well as smooth areas for swimming, tubing and canoeing.
Nestled away on 25 acres, Spring Valley Beach has been recognized as a "Driving Destination," an "Absolutely Alabama attraction," and a "Tennessee Valley Treasure." Boasting Alabama's first aquatic theme park, the largest pool in the southeast (over 2 acres) and 10 thrilling water slides, Spring Valley Beach is a perfect place for people of all ages to enjoy. With more than 30 barbecue grills, covered pavilions, shade trees and grassy area, the park is open May through September, and has something for everyone to enjoy.
This underground "Miracle Mile" is composed of magnificent passage-ways and beautifully lit rooms containing thousands of sparkling white limestone formations. Rickwood Caverns is a recognized member of the National Caves Association with more than a mile of living geology. A large portion of the caverns are still considered active "living formations" as sparkling, mineral-laden water droplets continue to create their masterpieces throughout the cavern. The park surrounding the caverns features a swimming pool, picnic areas, hiking trails, playground and both primitive and RV camping.
Nestled deep in the valleys of Blount County, the Heritage Golf experience is an exciting day of recreation on a scenic course built in a gentle green valley. Ranked consistently in the top 10 of Birmingham area's most played courses, the terrain is flat and easy to walk with numerous creeks that flow through the 81-hole, par 71 course. The Twin Oaks clubhouse is a spacious venue with beautiful views and is available for weddings and other special events.
Exquisite course created by nature and designed by US Open winner Jerry Pate. With panoramic valleys, bluffs, and streams this 72 par course exhibits dramatic changes in elevations. Rated as one of the 10 Upscale Old Course Designs in the United States and the Best Public Golf Course in Alabama, Limestone Springs offers a world-class golf experience.
The Blountsville Historical Society developed this historic park to create an outlet for cultural and educational experiences for locals and visitors alike. Features include a restored Brooksville Post Office, old Blountsville Jail, log farm, and four-square styled Freeman House first constructed around 1835. The Blountsville Historic Park also boasts the American Solar Energy Society's (ASES) National Solar Tour, a 3-hour walking tour of four solar homes in the area.
The Great Pumpkin Patch is located in Hayden, Alabama and home to the best Halloween Festival in the Southeast! Open from mid-September through the first of November, the Great Pumpkin Patch offers activities for the entire family.


Driving around town, it's hard to miss the multitude of beautiful murals that have been painted to beautify our towns. For more information on the murals and their registration with the University of Alabama's Alabama Mural Trail, you can visit https://www.uaced.ua.edu/mural.html.